Please help support our program.
The USL W League is a leader in pre-professional soccer in North America, developing the next generation of women's talent both on and off the field. The USL W League strives to use women's soccer as a force for societal good by creating a national platform to increase opportunity, gender equity, and career development. The League and its member clubs are committed to investing in women's soccer – through not only financial resources but also with time, energy, and attention – and are united in our mission to grow the women's game.
In addition to player development, Pleasanton RAGE values the tradition of giving back and investing in youth athletes in our community. During the summer and at our home matches, RAGE will take advantage of the opportunity to hold clinics for local youth and provide a fun and entertaining match experience, which will encourage youth players to continue with the sport and build the RAGE fan base. Pleasanton RAGE is committed to furthering the opportunities of local female athletes.  We aim to inspire the youth female athletic population and to serve as role models to young women who love the sport of soccer and athletics in general.
RAGE has a long and rich standing in the Tri-Valley, with well over 1,000 families/players involved with the club. A large social media focus and other community outreach are planned to promote the club, program, and benefits. This reach will also extend to Sacramento and Reno this season, with three matches in these regions.
In order to provide a high-quality product to our players, families and community will need your help. As you might expect, we operate with limited resources, constraining some of the activities we would like to implement and supporting our players during the season. Below are a series of packages available for this season. We are always open to other suggestions as well. We appreciate your consideration in contributing this season. Thank You!
Please contact Sarah Fawcett at sarah@pleasantonrage.org if you have questions or comments.
2023 Pleasanton RAGE USL W Sponsorship Program
Women's World Cup Sponsor $3,500
Prominent logo recognition on the RAGE Home and Away Jersey
Prominent logo recognition on team website
Prominent logo recognition in all print material
Prominent logo recognition on match streams
Company banner at all official club events, all home games, and camps
Social media recognition throughout the season
Two sponsorships available
Women's College Cup Sponsor $2,000
Logo recognition on RAGE training/warm-up jersey
Contributing logo recognition on team website
Logo recognition in all print material
Social media recognition throughout the season
Four sponsorships available
Women's Spirit Sponsor $500
Prominent logo on Ball girl t-shirts (also distributed to fans during games)
Contributing level logo recognition on RAGE Website
Logo recognition in all print material
Six sponsorships available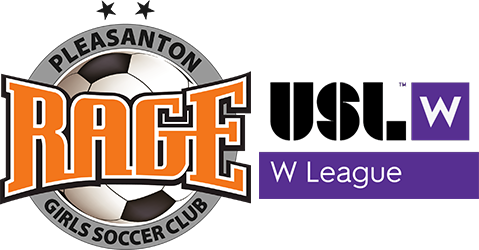 Contacts
– FOR THE W –
The importance of investing in women and women's soccer has never been greater. By providing more opportunities to play, work, and watch, we're committed to growing the women's game for all who love it.
Follow
Our Story

On Social Media